The Story Behind Trashpackers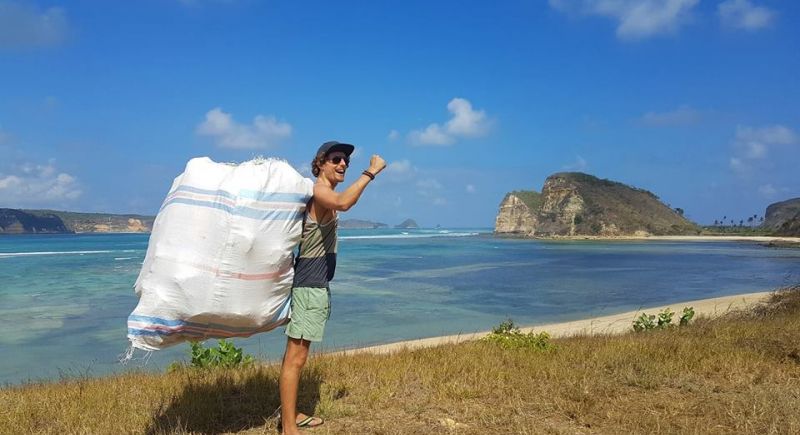 "Trashpackers is Give Something Back-Packing"
~ Tijmen Sissing (27) – Founder of Trashpackers
Tijmen (Dutch) left Australia to go to Asia during his backpacking adventure, in 2012. He was shocked to find polluted areas everywhere. Going back into his travels by the end of 2017, he learned that the problem of pollution had spread throughout the whole of South-East Asia.
Willing to change this, whilst he was backpacking, Tijmen decided to act.
"Many backpackers I met along the way shared my concerns, we talked about it a lot. Although I appreciated the conversations, we were just talking. I wanted to actually do something about it."

The first cleanup
The next day he cleaned up a river in Phnom Penh, Cambodia. His cleanup gained a lot of attention.
"Some people just stopped to stare at me, taking photos or videos, others came up to me saying thank you. There was even a guy who thought I cleaned because of  a community service duty! Even though i've collected some bin bags, i found it more interesting that i made people think and talk about it."
Tijmen wanted to share his adventure, demonstrating how individuals can really make a difference. Initially he wanted to make a video compilation of his cleanups to show what influence one individual has.

Viral
"And then the magic happened. When I cleaned a beach in Lahad Datu, Malaysia, locals started giving me water bottles, bin bags, a free ride to the store to buy trash-pickers (with discount), a man gave me a free lunch and a lot of people made pictures or recorded me. Finally done cleaning, 14 bin bags later – I even dragged a television out of the water – I wanted to grab some dinner. Suddenly I heard screaming girls, coming from a restaurant. They showed a video of my cleanup on their phones. One of the recordings had gone viral with 250.000 views in one day."
The day after, Tijmen was astounded with what he found, ten other individuals with two trucks and two tractors, were cleaning out the beach he already started on. They even managed to clean a second beach! He was then invited by the local government to talk about the problem of pollution.

The Trashpacker
Realizing he had started such a big momentum, Tijmen used his viral peak to start his community Facebook page 'The Trashpacker'.
"I realized that awareness is the first step into solving our global pollution problem".

The following day he cleaned up a polluted area in Semporna (Malaysia), pointed out by people in a restaurant who recognized his face. This time, 13 children decided to help him clean. The video he made of this event even made the Malaysian and Chinese news. His Facebook page then grew by 10,000 followers in a week.
"I was touched by the fact that after cleaning up 76 bags of trash, the kids didn't even ask for money. Instead, they said 'terima kasih', which means thank you in Malaysian."

Eversince, Tijmen went trackpacking from north to south Borneo and hosted cleanup events in each city where he came. In total 442 locals joined him and they've collected 959 bin bags! At the same time people were sending him pictures of their own cleanups. A movement was then born. 
Trashpackers Movement
'If I had one wish for the community, it's to be our effort to be a warm welcome from us, like presented with the kids from Semporna. Because to be honest, I am afraid that some locals may misunderstand the effort from a bunch of foreigners cleaning in their country. The slogan of the Trashpackers movement is "Give something back-packing'', because we realize that we are like a guest in someone's home. Sometimes you bring food or flowers to your friend as a gesture of respect, but instead of bringing something, we take away some trash. Rather than visiting the house with our polluted shoes, we take them off and leave some footprints that will leave the country a bit more beautiful than it already is.''