SCUBA #oceanpicup Ha Long Bay – part of the SCUBA #picuptrip
Finished on: 15/01/2019
Location: Hạ Long Bay, Thành phố Hạ Long, Quảng Ninh, Vietnam
Event story
The Twelfth clean event in the SCUBA #picuptrip was the MOST fun and came in three parts as we cleaned inside a famous cave, in the ocean itself and on the shores of the famous UNESO World Heritage Ha Long Bay islands!

For our clean we partnered up with @aphroditetours for a 2 day 1 night cruise around the famous limestone maze who very kindly offered ALL 14 volunteers FREE kayaks for participating in the clean!

It was such an incredible clean and worryingly, we filled all the bags we brought on the clean including filling the front of our kayaks and I feel we could have collected heaps more if we were out there for an extended amount of time. (Future Idea! ;))

Whilst on the cave clean portion of the trip we had so much support from all the tourists with me doing lots of interviews on camera phones and I also have to say a big thank you to the amazing group of Aussie's on the kayak portion who stuffed their bags as much as they physically could!

In the end we collected 7 bursting bags of plastic weighing 40kgs with 14 volunteers in just one hour! Considering a lot of this time went on trying to scoop it all out of the water with our oars this is an incredible clean event!

I just wanted to say a BIG THANKYOU to all of the staff and crew at Aphrodite Tours who were so supportive of the clean and made our stay a memorable one!

Our next clean might now be in the north in Sapa before the Biggie in Hanoi!
Amount of bags collected
10 binbags collected
Photo of collected bags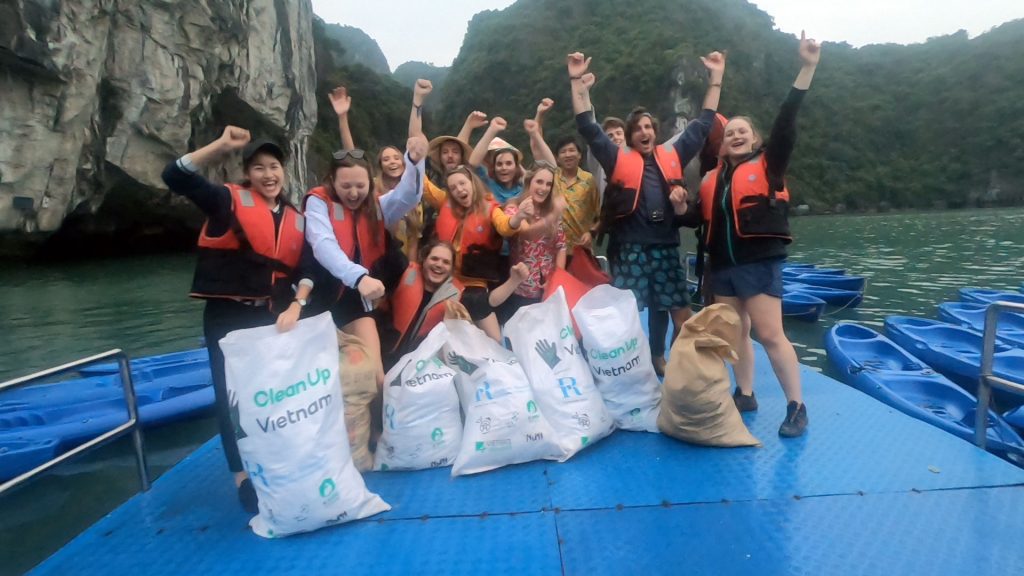 Extra photos