Enjoy Christmas Eve 2018 in different way
Finished on: 25/12/2018
Location: Circle K Nguyen Hue, Nguyen Hue, Bến Nghé, District 1, Ho Chi Minh City, Vietnam
Event story
Vietnam:

On Christmas Eve 2018, A group of volunteers around 170 people called Trashpackers Vietnam who has been done the clean up in Ho Chi Minh, Hanoi, Ben Tre, Quang Binh, Quang Tri and Netherlands.

They were inspired by Binh Yen and Tijmen Sissing who love taking care of the environment and they realized how important and urgent to take action to do something for Vietnam instead of complaining the pollution happened everyday.

Within a few day, there are hundreds of volunteers from over Vietnam who are willing to take part of this activity on Christmas Eve 2018 immediately.

Mr Nguyen Anh Dung from Quang Binh said "Instead of having fun with friends as the past. I chose to do something which is very meaningful with family, kids and team by picking the trash on Christmas Eve 2018. It can also be the best way to teach my kid how to take care of the environment".

From 22:00-02:00 on Christmas Eve 2018, hundreds of participants collected more than 300 bin bags in 5 different cities. Mr Tran Phong said in the funny way "Let others enjoy their Christmas. Let us collect trash after they leave on the floor".

Ms Tuyen Nguyen from Hanoi said " After meeting
up Binh Yen from Ho Chi Minh couple of months ago and seeing her to pick up the trash on the way we walked together. I felt like I want to do something with her. That imagine follows me until today Christmas Eve and it made me really excited to do this clean up job. Thank you, sister"

They all do with their heart and effort with hoping to inspire others to care more about our environment. We really wish Vietnam will become top 3 cleanest country in South East Asia within five years from 2019-2024. We know everyone wish to live in clean environment, clean city, clean beach and we believe more tourists come back to Vietnam.

Ms Hoa Nguyen shared on HTV7 "The clean-up work is one of our activities for taking care of the environment. We also try to change using habits from using single-use plastic, we use bamboo straw, mental bottle... We reduce day by day. We hope everyone can think before buying them (single-use plastic).

This activity has been attracted many young students, online shops, government officers, foreign tourists,locals, CEOs and business owners of some entrepreneurs, National TV channels and newspapers to join and support them willingly.

They really made an big impact in Vietnam.
Well done and keep it up, Trashpackers Vietnam Team.

Einhoven, Netherlands

——————————-

Vietnam:
Op kerstavond 2018, een groep vrijwilligers van ongeveer 150 mensen genaamd Trashpackers Vietnam die klaar is met opruimen in Ho Chi Minh, Hanoi, Ben Tre, Quang Binh, Quang Tri ...

Ze werden geïnspireerd door Binh Yen die graag voor het milieu zorgt en zich realiseerde hoe belangrijk en urgent het is om actie te ondernemen om iets te doen voor Vietnam in plaats van elke dag te klagen over de vervuiling.

Binnen een paar dagen waren er honderden vrijwilligers die bereid zijn om deel te nemen aan deze activiteit op kerstavond.

De heer Nguyen Anh Dung uit Quang Binh zei: "In plaats van plezier te hebben met vrienden zoals in het verleden." Koos hij ervoor om iets te doen wat erg zinvol is met familie, kinderen en vrienden door het vuilnis op kerstavond op te rapen Het kan ook de beste manier zijn om mijn kinderen te leren hoe ze voor het milieu moeten zorgen ".

Van 22: 00-02: 00 op kerstavond 2018 verzamelden honderden deelnemers meer dan 300 vuilniszakken in 5 verschillende steden. De heer Tran Phong zei op een grappige manier: "Laat anderen genieten van hun kerstdagen. Laat ons afval verzamelen nadat zij het op de grond hebben gegooid".

Ze doen dit met passie in de hoop anderen te inspireren om meer om onze omgeving te geven. We wensen echt dat Vietnam binnen vijf jaar in de top 3 van schoonste landen in Zuidoost-Azië staat. We willen in een schone omgeving leven en geloven dat dan meer toeristen terugkomen naar Vietnam.

Mevrouw Hoa deelt: "Het schoonmaakwerk is een van onze activiteiten om voor het milieu te zorgen, we proberen ook gewoontes te veranderen zoals eenmalig gebruik van plastic. We gebruiken bamboe en andere recyclebare materialen... We verminderen elke dag We hopen dat iedereen gaat nadenken alvorens ze te kopen.

Deze activiteit heeft veel jonge studenten, online winkels, overheidsfunctionarissen, CEO's en bedrijfseigenaren van een aantal ondernemers, nationale tv-zenders en kranten aangetrokken om zich vrijwillig bij hen aan te sluiten en te ondersteunen.

Ze hebben echt impact gehad.
Bedankt daarvoor! Goed gedaan en ga zo door!!Trashpackers Vietnam Team.

Amount of bags collected
302 binbags collected
Photo of collected bags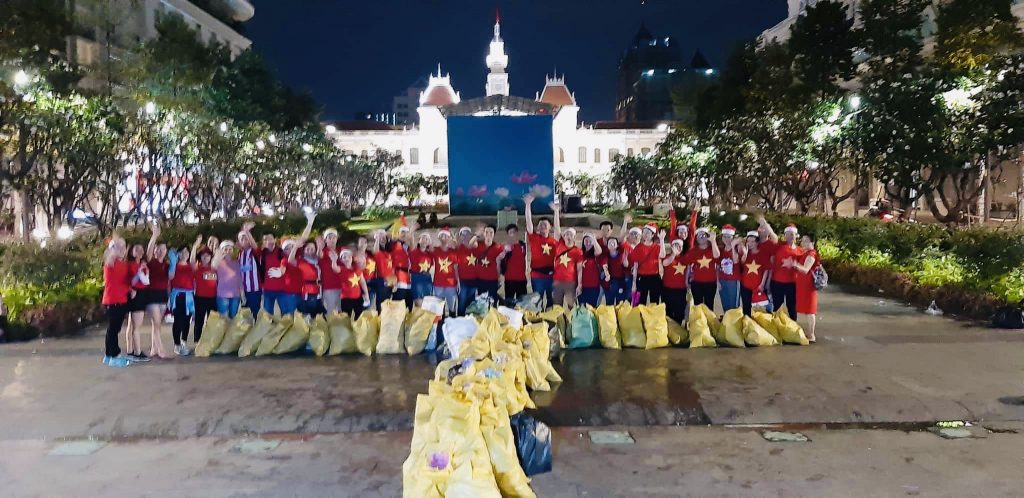 Extra photos